Senior Principal Urban Planner | Planetizen Job Board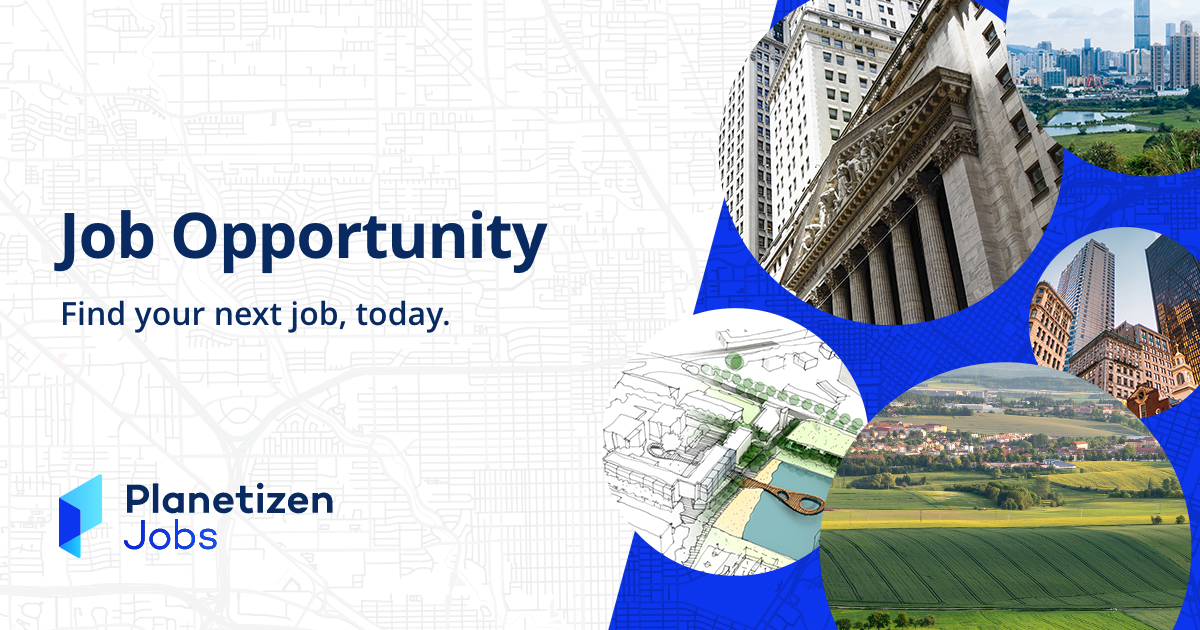 Who we are
At WSP, we are driven by the inspiration of future-ready pioneers to innovate. We seek to grow our teams with people willing to collaborate to build communities and expand our horizons. To do this, we recruit candidates from all walks of life. That's why at WSP, inclusion, diversity, equity and belonging are fundamental principles. It's all within our reach and yours as a WSP employee. Join us and help us shape the future!
This opportunity
WSP is currently looking for a Principal Land/Urban Planner for our Los Angeles office. The following locations will also be considered: San Diego and Orange.
Be a leader in urban planning, neighborhood revitalization and planning for the sustainable growth of our communities with our planning team and be part of a growing organization that meets our clients' goals and solves their challenges. The position will be mainly focused on urban planning and land development projects. You will help us tackle challenging and dynamic projects across the entire planning realm.
Candidates for this position should have between 10 and 13 years of experience. The ideal candidate for this role will be comfortable managing a variety of projects simultaneously, supervising staff, building client relationships, leading proposals, coordinating community engagement, producing a product of high quality work and to travel if necessary.
Your impact
Manage multiple complex, concurrent projects and lead community engagement efforts in Southern California and Nevada communities (must be willing to travel as needed).
Lead or participate in the preparation of comprehensive plans, community plans, downtown studies, corridors and urban design, and land use/zoning code updates.
Interface with clients, sub-consultants and other professionals, as required, at all stages of project development.
Manage internal project teams, including junior staff; encourage staff development in line with the company's vision, goals and values.
Actively participate in a full range of corporate marketing and business development activities, including developing project scope and approaches, preparing proposals and presenting at client interviews.
Exercise responsible and ethical decision-making regarding funds, resources, and corporate conduct, and adhere to WSP's Code of Conduct and related policies and procedures.
Perform additional responsibilities as required by the business.
Who are you
Qualifications required
Degree in urban planning, urban design, architecture, landscape architecture, public policy or related field (or equivalent experience).
10 to 13 years of experience, demonstrating progression in project responsibility and management of junior staff.
In-depth knowledge of urban planning and design issues, including site planning and design, neighborhood revitalization, housing development, and transportation/transit-oriented development.
Ability to collect, organize and analyze data, as well as research and interpret detailed plans and regulatory documents.
Strong interpersonal experience, demonstrating an ability to work collaboratively and effectively manage project resources.
Project management experience, including tracking time and expenses for project work.
Proficiency in a range of engineering analysis and design software including but not limited to ArcGIS, Adobe Creative Suite and 3D visualization/Sketchup software. Hand graphing ability is also desirable.
Excellent people management skills.
The ability to clearly and concisely articulate detailed concepts and planning ideas to a broad audience, both orally and on the page.
Proven track record in maintaining workplace safety and ability to adhere to WSP Health, Safety, Drug/Alcohol and Harassment policies.
Ability to work schedules tailored to specific project requirements which may extend beyond the typical work week.
Occasional travel may be required depending on project specific requirements.
Preferred qualifications
Master's degree is preferred.
Professional license/certification essential.
Additional requirements
To perform this job successfully, a person must be able to perform each essential task satisfactorily. Reasonable accommodations may be made to enable qualified persons with disabilities to perform essential job functions.
Additional Details
Travel required: ten%
Task status: Ordinary
Type of employee: Full
Main location: LOS ANGELES – SOUTH FIGUEROA
All locations: US-CA-Los Angeles, US-CA-Orange, US-CA-San Diego
---
About the FSSF
WSP USA is the US operating company of WSP, one of the world's leading engineering and professional services companies. Dedicated to serving local communities, we are engineers, planners, technical experts, strategic advisors and construction management professionals. WSP USA designs sustainable solutions in the building, transportation, energy, water and environmental markets. With more than 12,000 employees in more than 200 offices across the United States, we work in partnership with our clients to help communities thrive. www.wsp.com
WSP offers a full range of benefits, including medical, dental, vision, disability, life insurance and retirement savings, focused on health and financial stability throughout an employee's career. employee.
At WSP, we want to provide our employees with the challenges they seek to advance their careers and knowledge base. Your day-to-day contributions to your team will be critical to achieving client goals, goals and challenges. Are you ready to start?
WSP USA (and all of its US companies) is an Equal Opportunity Employer with respect to race/age/color/religion/sex/sexual orientation/gender identity/national origin/disability or protected veteran status.
The selected candidate must be authorized to work in the United States.