Nicole Lohkamp is graduating from Eastern New Mexico University this semester with a bachelor's degree in graphic design with minors in communication studies and general business. She hopes to use her degree to work at a packaging design company, prototype websites, and work in social media.
"I love so many aspects of graphic design that it's hard for me to choose just one," she shares. "Later in my career, I want to become a full-time freelancer taking jobs from clients and running my own art shop where I sell prints, stickers, and more."
Her dream is to attend conventions and sell her art in person. "Conventions are fun to attend, and I would love to experience being part of the artist aisle selling my art," she explains.
Nicole was born in Palau and moved to Gallup, New Mexico when she was eight years old. At age 12, she moved to Wisconsin. She ended up in the Green Bay area, where she lives.
She has three siblings. Her stepfather works in a printing company and her mother has held several different jobs, ranging from an interpreter in Japan to a cleaning lady. Nicole is engaged to her high school sweetheart; they began dating during his senior year.
The first-generation student chose to go to ENMU "on a whim. I didn't know exactly what I was doing after high school, and my best friend convinced me to come to ENMU. I met her when I was still living in Gallup, and we kept in touch after I moved to Wisconsin, but before we moved, we dreamed of going to the same college and being roommates.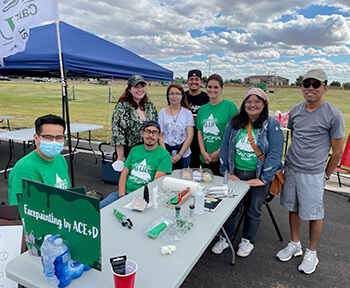 "Fast forward to senior year of high school, the program I wanted to take at another college was cut, so I ended up deciding to come here," she explains. "ENMU's small class sizes and cheaper tuition also played a big part in my decision."
She first pursued a major in computer science. "I was hesitant to pursue art studies because of the stereotype of the starving artist," she says. "After my first semester, computer science was not for me, and I decided to follow my instinct and choose something related to art. That's when I learned graphic design, and it ended up being something I'm really passionate about!"
The senior was inspired by her art teachers, especially Scott Golem and Mario Bocanegra. "They helped me a lot to improve my work during my course in graphic design," she shares. "They taught me to have a critical eye and to get super fussy with my own work, making me the designer I am today."
She continues: "They were very supportive throughout my studies, and I don't think I would be as confident in my designs today without the guidance they gave me. They also helped me become a designer who could do a bit of everything. Without Mario's guidance, I would never have gotten into motion graphics, and Scott taught me how to create amazing and effective layouts for publication work.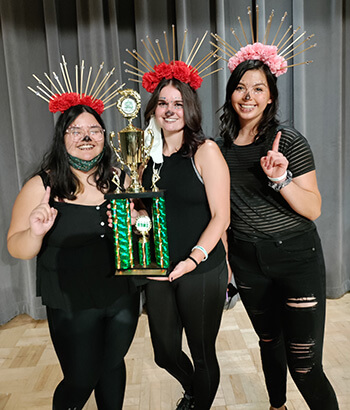 What she loves most about being a Greyhound is "the fact that you can build a strong mentor-student relationship with the teachers here. I feel like that would be harder to accomplish in major universities.
His favorite classes at Eastern were Web Design and Motion Graphics.
She reflects, "My motion graphics course took me out of my comfort zone, and even though it was very difficult and dreadful at times, I really appreciate what I learned from it! It's a set of skills that gives you a step forward in the field of graphic design.
"I loved web design because I've been into it since high school, and it showed me that I could have a career as a UI designer. It's a job where you don't have to need to know how to code, just prototyping what websites and apps look like."
His favorite places on campus are the Art and Anthropology Building (AA) and the Golden Student Success Center (GSSC).
"The AA is one of my favorite places, just for how often I went there, whether for classes or to finish my other work," she explains. "Being in a space specifically for someone to do art helps me stay focused while I'm working on projects. Plus, there are resources like printers and stuff that I don't need. have no home that I can use.
"The GSSC is another favorite of mine as it's another place that helps me stay focused. There are lots of little nooks to settle in and get to work. And, if I have friends with me to study, it's always nice to have a study room to work all next to each other."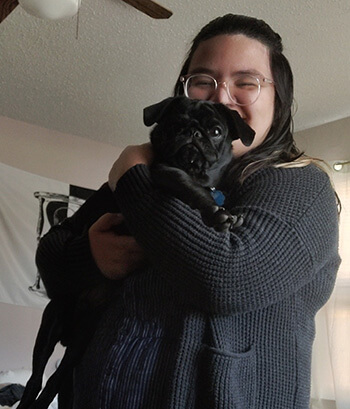 Nicole has been very involved at Eastern, serving as president of ACE+D, member of the Spanish Club, and graphic designer for the Office of Campus Life. His art was part of Runnels Gallery juried exhibitions 2021 and 2022.
The Dean's List winner, who graduates with high honors, was the recipient of the Reid Isler Memorial Fellowship, Metcalf Fellowship, Steelman Starving Artist Fellowship and Doris Jean Setser Fellowship.
Nicole gives advice to students interested in pursuing studies in graphic design: "Don't be afraid to step out of your comfort zone and don't be discouraged when your peers and professors become fussy with your work! Being fussy pushes you to be a better designer. It can be annoying, but those extra right arrow keys or increasing the size of a point in your type can really make a difference.
Greyhound hobbies include video games, crocheting, drawing, caring for his plants, watching cartoons, and reading. She has a pug named Oreo and a Chihuahua named Bella.
She hopes to one day have a house with a big garden so she can take in rescue animals and "let them live their lives to the fullest!"